He is his school's "obligatory psychotic jackass." Yes, he can be a good friend but once you crossed over his bad side, be warned, for he will torment you every single day. He's a freakin' asshole that he will not think twice of swinging a crowbar and bashing your headlights. Yeah, he is like that.
"And let's not forget Logan Echolls.
Every school has an obligatory psychotic jackass.
He's ours."
But what exactly drives this person to be this kind of jackass? People may think he is living a privileged life but if you look closely, this seemingly perfect life is full of cracks – cracks so huge that it can crash anybody's world. His girlfriend died. His mother jumped off a bridge and took her own life. His long abusive father is an adulterer and a murderer. Now, he is Logan, a tormented and tortured soul. Yes, he is damaged, but is he damaged beyond repair? Is he an un-reformable bad boy?
"And then, there's bachelor number three. He's got it all. Motive. Access.
Looks like an evil-doer, smells like an evil-doer.
But surprisingly, not so much."
In his crazy life, he met Veronica – the person he loves the most. He was his girlfriend's best friend and he was her boyfriend's best friend. They were The Fab Four. But Lilly's death changed everything. He started to hate her but, he cannot hate her forever and ended up falling in love with her.
But life is not always colorful in LoVe-Land for these two star-crossed lovers are so opposite that they clash most of the time. You just can't combine Logan's learned hedonism with Veronica's unrealistic expectations and trust issues.
"And you know what? I'm not built to stand on the sidelines. And I think we have a choice.
I think we can take a tough, but survivable amount of pain now…or stay together and deal with unbearable pain later. So I vote for the pain now.
But I'm always here… if you need anything.
But you never need anything."
-Logan
They get together and have a few months of contentment but once the veil is lifted, reality smacks them hard in the face and they break up. Too jaded for each other, too broken for anyone else. Can't trust each other, can't love anyone else, can't be alone. How can you even begin to describe a relationship like this? I have no idea.
But one thing's for sure , their relationship is EPIC.
Logan: I thought our story was epic, you know, you and me.
Veronica: Epic how?
Logan: Spanning years and continents. Lives ruined, bloodshed. Epic.
Veronica: Come on. Ruined lives? Bloodshed? You really think a relationship should be that hard?
Logan: No one writes songs about the ones that come easy.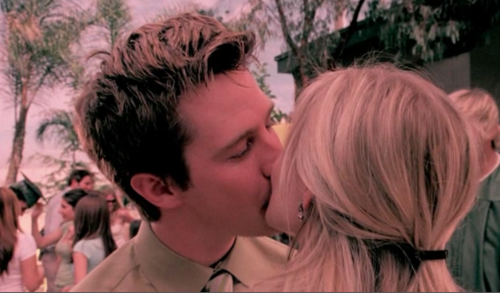 ____________________________________________________
A shout-out to the adorable, charming, gorgeous and talented Jason Dohring – the person who brought us Logan Echolls and the person who made "psychotic jackass" looked so appealing.
BELATED HAPPY HAPPY HAPPY BIRTHDAY!!!